I don't like scrolling through posts to find the recipe, so, if you just want the recipe-here it is.
Quinoa Chicken Parmesan with Spiralized Zucchini Noodles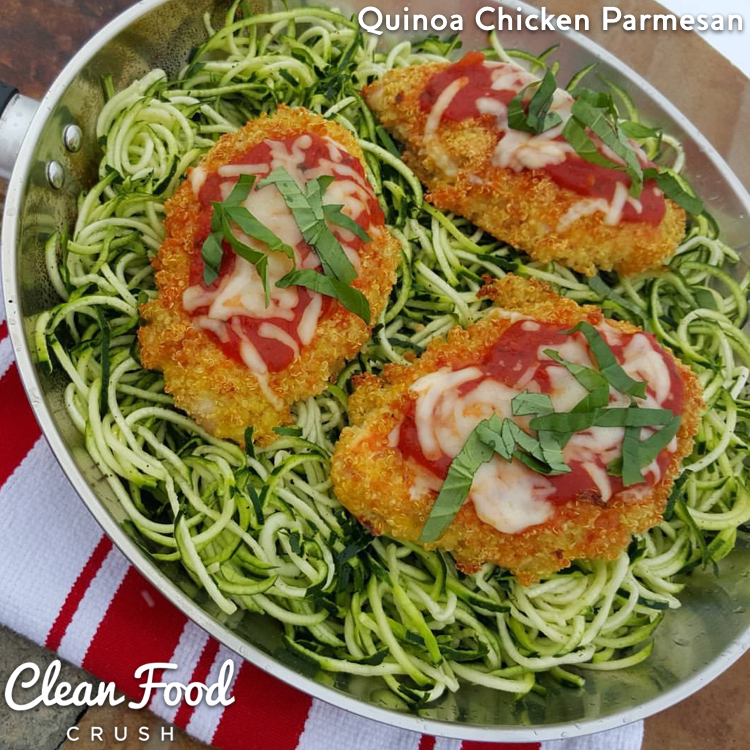 Ingredients
1 cup quinoa
1 Tbsp dried Italian seasoning
2 large boneless, skinless Chicken breasts, cut in half, so they are thin (or use 4 small breasts, and pound them, thin & evenly sized)
1 tsp garlic powder
Sea salt and freshly ground black pepper, to taste
1/2 cup almond flour or whole wheat flour
2 large eggs, beaten
1/4 cup all natural
shredded mozzarella cheese (optional)
1/4 cup grated Parmesan cheese
1 cup low-sugar organic marinara sauce
1/4 cup fresh basil leaves, chopped
Instructions
Preheat oven to 400 degrees f.
Lightly oil a baking sheet or coat with nonstick spray. (I used avocado oil or olive oil spray)
In a large saucepan, cook quinoa according to package instructions.
Stir Italian seasoning into cooked quinoa, set aside.
Season chicken with garlic powder, sea salt and pepper, to taste.
Working in small batches, dredge chicken first in flour, dip into eggs, then dredge in quinoa mixture, pressing slightly to coat each breast.
Place chicken onto the prepared baking sheet. Place in the oven and bake for 20-25 minutes, or until golden brown, and cooked through.
Top with cheeses and marinara.
Place into oven and bake until cheeses have melted, about 3-4 additional minutes.
Serve immediately over spiralized zucchini noodles (I tossed my zucchini in a hot skillet with a touch of olive oil, sea salt and freshly ground black pepper, for 3 minutes before serving)
?CleanFoodCrush.com/Spiralizer
Garnish with fresh basil.
All Credit goes to Clean Food Crush blog. I found it on Facebook and pinned it to my Pinterest account.
The only tips I have are -don't be afraid to season, season, season. I've thrown out "measuring" my spices a long time ago, I know which ones I like more of and which ones I like less and I dump it all in accordingly. BUT in order to make this SOOOOO TASTY don't be afraid to season your quinoa-quinoa needs a lot of help in the flavor department in my opinion, haha. Also, I used spelt flour instead of whole wheat (and she mentions almond flour as another option). Spelt is not only a sprouted grain, but it also has a light, sweeter flavor instead of the cardboard taste of whole wheat. Lastly, I flipped the breasts over before adding the marinara and cheese for the last four minutes, so that the crunchier quinoa got covered in cheese. OH so good.
Now, the update. I have been sore for a full week and a day. It's been awesome. I did three chin ups today. YEAH BABY! Then I pretty much collapsed in a heap and whimpered and it currently hurts my biceps to type, somehow, but hey, that's unimportant. We got some more weights to fill in our weight gaps (I needed an 8 and a 12lb) so I'm ready to really start upping the weight in the coming workouts. I admit, I don't like the stop start nature to weight workouts, I prefer the constant flow of things like PiYo or even some p90x stuff (though he does stop start some, too), but I can't argue with the results. I'm getting stronger even as I feel weaker, haha. And I've lost a few pounds of fluff that I'm hoping now to convert to muscle.
I'm really enjoying this meal planning stuff. The annoyance of meal planning is put in the balance of absolutely not stressing about food during the day. It is WORTH IT. I am adding a container or two tomorrow-a veggie and/or a fruit-because I'm still hungry throughout the day. My metabolism is already fairly fast (thanks, genetics!) so even though my target plan is on point no matter how I measure it out, I'm burning through it. The point of this is NOT to be hungry all day-Autumn talks about how detrimental it is for your body to go into starvation mode-so I'm upping the food. This is triply important since I want to GAIN muscle.
Also, the food is so good. Remember that series I did on picky eating? Remember how essentially the advice, "Don't force your kids to eat anything, make sure there is always something they like on the table" was repeated throughout? That's what I'm doing. The boys always get something I know they like on the table (and usually that is what they eat) whereas I get to cook MY food (and offer it to them if they want it, of course). This means I get to cook food I like without caring one wit on whether or not my finicky 2.5 year old will have a single bite… Pure. Bliss.
OH! And I'm helping out in a 21 Day Fix accountability group and am really enjoying it. 🙂 If anyone is interested shoot me an email at slowisapace@gmail.com it's a pretty cool program.
The end!